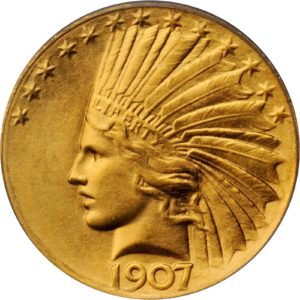 Only 500 or so 1907 Indian eagles with wire rims were issued, privately to Treasury officials and others in the government plus, seemingly, some laundered through "pet" dealers, Henry Chapman in Philadelphia and Thomas L. Elder in New York City.
Today, most still survive, but the number made was so low, and the reverse type sufficiently distinctive, that these coins have always been in incredible demand. Years ago it was common to call some of these Proof, but as all 1907 Wire Rim $10 Indian pieces have exactly the same finish, they are either all Proofs or are all Mint State. When the present writer (QDB) cataloged the Eliasberg Collection of United States gold coins in 1982, I gave an extended discussion on the subject, picking up comments from others, including David W. Akers. By now, the matter seems to have been settled, and we scarcely hear of pieces being called Proofs any longer.
The 1907 With Periods $10 is not a pattern (although it is listed in the Judd pattern book for some curious reason), it is a design type all its own. Accordingly, it deserves a place in an advanced type set.
Designed by Augustus Saint-Gaudens, this among the most desirable of all 20th-century gold rarities. No specific information about the making or distribution of this issue appeared in the numismatic press, and collectors had to scramble to track down pieces. Some interesting correspondence in this regard, between dealer Chapman and Baltimore collector Robert Garrett can be found in Dave Bowers' 1982 book, The History of United States Coinage. Walter Breen called the with-period design type "The only available gold $10s showing the Saint-Gaudens conceptions in anywhere near their pristine splendor," inferring that the later remodeling by Barber greatly diminished Saint-Gaudens' concept, both in strength and character. Actually, both are quite different in their appearance, and each has its own beauty. The 1907 eagle with-periods has fields with myriad microscopic raised swirls and curls from the die-finishing process (a feature also seen on the MCMVII double eagles). The no-periods 1907 $10 coins have a normal frosty luster, also beautiful.
1907 Indian Eagle. Wire Rim #2
The new 1907 eagle design features a stylized Indian Head facing left, a female portrait wearing a feathered headdress (worn by male Native Americans of the plains when worn at all), stars around the border, date below. On the reverse the standing eagle is accompanied by inscriptions, with periods before and after, apparently to create a rarity, not for pattern reasons or for utilitarian purposes.
The original coinage of the 1907 with wire rim on the obverse and with periods after the legend on the reverse is not known, as at the time games were being played at the Mint. Contemporary figures vary slightly, but the numbers of 500 to 550 are often cited, 500 now being the favorite. The truth will not be known unless someone uncovers some long-hidden records (if indeed records were kept to begin with). Today we estimate that perhaps 325 to 375 exist. All have semi-lustrous surfaces, a hybrid finish between matte and mint frost. The beauty of this particular variety is perhaps best stated by quoting Walter Breen in his 1988 Encyclopedia: "The very first of these [the wire rim issue as offered here] are the only available gold $10s showing the Saint-Gaudens' conception in anywhere near their pristine splendor." All specimens are from the same pair of dies, and under magnification there will be seen a multitude of tiny swirls or raised die finish lines. The motif differs from the circulation issue in that there are raised periods before and after the reverse inscriptions. On the variety offered here, the rim is raised or sharp, more appropriately called a wire rim, but sometimes called a wire edge. The term "knife rim" or "knife edge" is occasionally used, including in some early listings, and later by Walter Breen. In the past some of these have been called Proof, but as all are from the same dies this point can be debated. They are all Mint State, as attributed here, or they are all Proofs. Some extensive discussion has taken place about this in the past, including by David Akers in his illustrious study of the series, and in the present writer's commentary in the 1982 Eliasberg catalog, to which readers can refer if interested. Perhaps answering the question, the Guide Book doesn't list Proofs at all. However, precisely the same situation rears its head with the next issue, the rolled or rounded rim.
The history of this piece is extensive, rich, and interesting. While these pieces have sometimes been called patterns, an examination of the situation leaves no room for any conclusion except that these were "special" coins produced not at all as patterns, but distributed in small numbers for the profit of Mint employees and favored others with "connections." On the other hand, to qualify as a pattern, a coin would be a design proposal made in small numbers to test a motif, often involving adjustments made by the engraver before the coins are struck for circulation. In the present instance, these "special" 1907 coins with wire rim and with periods on the reverse were placed in the hands of those who were free to keep them as souvenirs or sell them at a profit. In order to take advantage of the numismatic trade, such pieces were filtered out of the Mint into the hands of receptive coin dealers, most prominently Henry Chapman of Philadelphia and Thomas L. Elder of New York City, both of whom had quantities on hand for years afterward and regularly offered them in their catalogs. Much more could be said about these, and if the successful bidder on this lot will correspond with the cataloger (QDB), we would be pleased to give expanded details. The presently offered specimen is a lovely example of this early Saint-Gaudens $10, with the portrait said to have been modeled after Henrietta (Hettie) Anderson, and also used by Saint-Gaudens on a sculpture portrait bust. The reverse is a standing eagle adapted by Saint-Gaudens from that used on the inaugural medal created for Theodore Roosevelt in 1905.