1795 $10 Gold Eagles Coin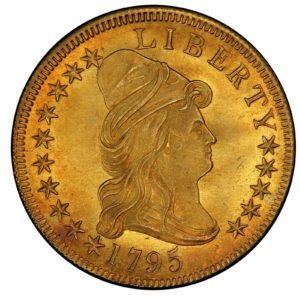 Only 5,583 eagles were coined in 1795, and as a type the $10 Small Eagles is a rarity as well. Mint State examples are especially rare, of course, a fact that is somewhat obscured by the current population data and the cottage industry of resubmissions. David Akers, when this coin was sold in 1988, noted that perhaps only eight to 10 specimens of the date were of comparable quality to this one. Among examples of this variety, Anthony Taraszka lists this piece third on his Condition Census behind only the Eliasberg coin and a specimen Stack's sold in 1993. This piece is finer than the off the market Bass coin. David Akers rightly called this coin "without question, one of the very finest 1795 eagles in existence, a classic American numismatic rarity of exceptional quality and beauty." In a time when coins of this caliber were sold without certification, it is worth noting that Akers called this coin Choice Uncirculated 63 or better.
The total production of the motif with Capped Bust to right, Small Eagle reverse, is believed to have been fewer than 15,000 pieces, spread across several different dates and varieties. Although it is likely that some pieces circulated in commerce in the 1790s as this was an era of abundant gold and silver, afterward many if not most were exported and melted. Today, any early eagle is scarce, and many are rare. As the largest denomination of its era, it was called the eagle. It was then logical that when the $20 piece was produced decades later, it was called the double eagle, answering here a question sometimes asked.
The eagles of this type are rare and beautiful. The reverse is particularly elegant, with a nice touch being provided by the tips of the eagle's wings intruding into the lettering, somewhat reminiscent, style wise, of the eagle reverse of the Flowing Hair silver coins, on which the tips of the wings go under and over the surrounding wing. The motif is said to be copied from an ancient cameo, perhaps explaining the use of a palm branch, otherwise unexplained. Not much has ever been done, so far as we are aware, concerning the study of botanical varieties as represented on coins. We might also mention that the wreath on the silver coinage with the Draped Bust obverse and Small Eagle reverse is unusual, with olive or laurel branch to the left and some other type of branch to the right.
Among design types of gold coins, the 1795-1797 eagle issue is far and away the rarest, the key to the series. Later eagles with the Heraldic Eagle reverse far outdistance the present type in terms of availability.