United States Mint Coins from 1795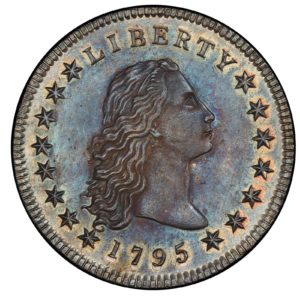 In 1795 the Philadelphia Mint entered its third year of coinage production. Set up in 1792, and utilizing buildings already in place, the Mint produced patterns the first year, then in March 1793 struck the first coins for general circulation, the copper "chain" cents. Although 1794-dated dies were made for half dimes, they were not used until 1795. There had been surety requirements for Mint officers before they could strike coins in precious metals, so none were struck until this had been satisfied. The first such coins were struck in the autumn of 1794, of the Flowing Hair design and of the denominations of half dollar and dollar. Coinage was accomplished by screw presses actuated by men tugging at the end of a heavily weighted bar.
David Rittenhouse, scientist, artist, and philosopher, had been director of the Mint since April 1792 and would remain in the post until June of 1795, after which Henry William DeSaussure served until October 27, 1795, followed as director by Elias Boudinot, who remained until July 1805. The first United States gold coins were struck in the summer of 1795—half eagles or $5 gold pieces, followed by eagles ($10 pieces) that autumn.
Silver coinage continued, including the Flowing Hair half dime, half dollar, and silver dollar. These featured the head of Miss Liberty facing to the right, with hair tresses to the left. On the reverse a delicate "small eagle" perched within a delicate wreath. The design was attractive at the time, and today remains a favorite with numismatists. Later in the year the Draped Bust motif was introduced for the dollar, the first use of this in American coinage. In 1796 the Flowing Hair type was discontinued for the half dime and half dollar.
Apart from the Mint, it was a time of expansion for young America. In the West, Daniel Boone created the Wilderness Road, facilitating travel beyond the coastal states. The North West Company established Milwaukee as a trading post on Lake Michigan. As a precursor to mystery and adventure that continues today, in Nova Scotia three boys digging beneath an oak tree on Oak Island found an old shaft that seemed to lead to a buried treasure—still today in 2011 unclaimed and exciting to followers of adventure.
In Philadelphia, the seat of government, President George Washington directed the affairs of the nation, but took time to visit Ricketts' Circus, while at the Mint a small copper token is said to have been struck for this enterprise.
Numismatists were few and far between in 1795, limited to perhaps no more than a dozen enthusiasts who directed their attention to medals, ancient coins, and world issues, not to current Mint products. As a result, all were placed into circulation, and in time became worn. Sometime during the year a gentleman from England visited the United States, perhaps even calling at the Mint, and returned home with a large number of 1794 and 1795 coins. Many years later these came to light and in 1964 were auctioned in London as the Lord St. Oswald Collection. Included were two Mint State 1794 dollars and a number of other Flowing Hair silver coins from 1794 and 1795.