1796 Quarter Coin Rarity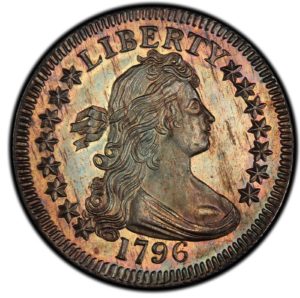 For a long time, the 1796 quarter has been an object of desire for all who form type sets of American coinage. Struck only in this single year, the Draped Bust obverse in combination with the Small Eagle reverse is very rare in comparison to the demand, as no type set can be complete without one.
The design is descended from the 1795 silver dollar with the same motifs, first produced in the form of variety BB-51. The portrait is said to have been by Gilbert Stuart. In the "what might have been" category is the 1795 Draped Bust half dime but, so far as is known, the 1795-dated die prepared for such was not used until 1796, when it was overdated. Otherwise, the only coins of this motif are the 1795 silver dollars, which exist in two die varieties (BB-51 and BB-52).
A total of 6,146 quarters were coined in 1796 from two pairs of dies. Most were long ago lost or melted, and the majority of high-grade coins came from a hoard put together by Col. Green. The tiny mintage created one of the scarcest early type coins and it has long been one of the most desirable type issues to find for advanced collectors.
A number of examples exist in varying degrees of Mint State, some of which are quite attractive. However, nearly all have a flatly struck head, a problem so vexing that one famous numismatist searched for over a decade for a sharp piece, and finally gave up, and acquired one with a flatly struck head.
Unlike the other silver denominations of 1796, a number of quarter dollars seem to have been made with care, with prooflike surfaces, although not with enough care to strike up the eagle's head properly.