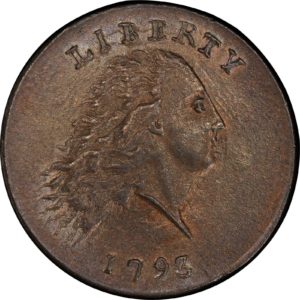 In a record setting auction, Stack's Bowers Auctions out of California sold the D. Brent Pogue Collection for just over $106.7 million dollars. The collection had a series of record coins. A 1793 Flowing Hair Chain (to left) cent sold for $998,750 in Part 3 of the auction, which took place in February of 2016. In a more recent auction, an 1804 Silver Dollar fetched more than $3,000,000. These high realized prices aren't just a matter of luck. These prices come from a collector who strategically and systematically added to and built his collection. Most of the coins were purchased one at a time. Take a few minutes to dive into the fascinating world of the largest single coin auction in history. For more information on the collection, we have also provided links at the bottom to help satisfy all of your curiosity.
Let's Take a Look at Some of the Collection
Early American Copper coins, half cents and large cent, make up a bulk of the collection.

Many of the coins in the Pogue Collection were acquired before the era of certification, therefore emphasizing the great eye that D. Brent Pogue has for a quality coin.
Pogue's collection of $3 Gold Pieces surpassed the $1.9 Million estimate and netted $2.6 Million.
In the 2016 sale, the first 11 lots with a face value of $0.05 netted a total of $4.159 Million.

There were 685 coins in the collection, averaging out to $155,766 per coin.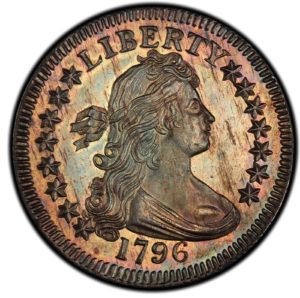 One of our favorite coins in this impressive collection was the 1796 Draped Bust Quarter (Image B). The quarter had nice orange and yellow toning around the rim of the coin, and featured well defined lines. This coin realized $1.527 Million.
It is needless to say that hard work, patience, a good eye, and a quality action house will help a great collection become the best collection ever sold. For more information on the D. Brent Pogue Sale, click here. For more information on Stack's Bowers Auctions and the services that they provide, click here. We hope that you have enjoyed this sneak peak inside the most valuable coin auction to date. If you have any new topics or questions you would like answered, please let us know!