Value of $5 Gold Half Eagle Coins
Five dollar gold coins are also known as half eagles within the coin collecting community.  They were first minted in 1795 and production ended in 1929.  There are really only five major design types used during that 134 year time span.  As a general rule, older coins tend to be scarcer, but each series has some very rare issues.
Liberty Cap (1795-1807) $5 Gold Coins – These coins are definitely scarce.  No single year had a mintage over 70,000 coins.  These coins were popular with large east coast merchants and a large number of coins wound up in Europe where they were eventually melted.  There are 20 different recognized varieties within this twelve year range.  The rarest coin in the group is the 1798 with the small eagle.
Turban Head (1807-1834) $5 Gold Coins – These half eagles are also fairly scarce.  Mintages were sometimes higher than the Liberty Cap coins, but many of these coins are actually rarer today.  The famous 1822 $5 gold coin is from this series.  It is unique in private hands and worth close to ten million dollars.  Other rarities like the 1815 half eagle had a mintage of just 635 pieces.
Classic Head (1834-1838) $5 Gold Coins – This is a short series that only has eight varieties.  The rarest of the group, especially in high grades, are the 1838 coins from the Charlotte and Dahlonega mints, along with the 1834 crosslet 4.  This is an interesting coin design in that just a representative type coin can be bought for less than $500, but the best of the best will be tens of thousands.
Coronet or Liberty Head (1839-1908) $5 Gold Coins – This is an extensive series that could be discussed at length.  The main takeaway here is that the mint mark and condition of these coins is extremely important.  A couple of the famous rarities from the series are the 1887 and 1875 $5 gold coins, which had mintages of just 87 and 220 coins respectively.  There are dozens of coins where the mint mark and condition can make one coin worth $350 and another coin of the same year worth $10,000.  So each coin should be valued based on its own individual merits.
Indian Head (1908-1929) $5 Gold Coins – The Indian Head half eagles represent a vastly different design compared to all earlier $5 gold coins.  The rarest dates are 1909-O and 1929.  So interestingly, despite being the newest coin, 1929 $5 gold coins are in many instances worth multiples more than coins that are decades older.
We are interested in buying any and all five dollar gold coins.  Please send us some pictures of what you have to Info@Coinappraiser.com and we can get you some more information and an offer to buy your single coin or entire collection.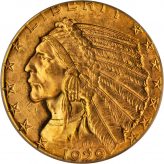 Indian Gold Half Eagle (1908-1929)