Value of Shield Cents (2010-Present)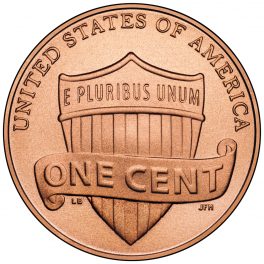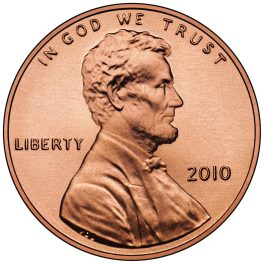 After the Lincoln Bicentennial Cents were through with production, the Shield Cents were released as the new design going forward. Like the previous cents, the new design kept the iconic Lincoln portrait on the obverse, while changing the reverse to show a shield with a banner going across it. This design is presently in production. In the year 2017, the Mint created the first Lincoln cent to have a "P" mint mark. A craze took over the low end collector's market and the price of 2017-P Shield Cents shot up. Eventually, we anticipate that the price of these will even out and land right at face value. However, the United States Mint has already announced that they will not include the mint mark on the 2018 Lincoln Shield Cent as it is not necessary. So, collectors still believe that the coins will be valuable since they were one year production coins.
These coins are all worth face value, unless your coin is certified as a MS70 and isn't a satin finish coin. If you have a coin certified as MS70 then please reach out to see what our offer can be.
---