Value of 1811 Classic Head Half Cent
Heavy Circ
Click to Enlarge
Value
$200
I Own 1811 Classic Head Half Cent (1809-1836) in this Condition
Value
$1,100
I Own 1811 Classic Head Half Cent (1809-1836) in this Condition
Light Circ
Click to Enlarge
Value
$3,000
I Own 1811 Classic Head Half Cent (1809-1836) in this Condition
Value
$22,500
I Own 1811 Classic Head Half Cent (1809-1836) in this Condition
History, Information, and Value of 1811 Classic Head Half Cent
Value of 1811 C-1 Classic Head Half Cent
W-1 | Wide Date | C-1, B-1 | Breen dies: 1-A. | This key date to the early Classic Head half cent series is known in two die varieties. Some 150 to 225 examples of the 1811 Classic Head Half Cent, W-1 are estimated to exist, making this variety far and away the scarcer of the two for the date. Obverse die with wide date numerals spaced 1 81 1, reverse die with berry opposite upright of R in AMERICA. AU examples are rare and Mint State examples present a serious challenge to collectors. This coin was minted at the Old Philadelphia Mint.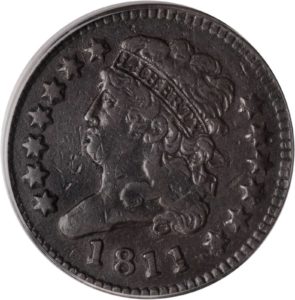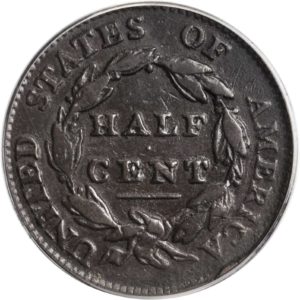 Value of 1811 C-2 Classic Head Half Cent
W-2 | Close Date | C-2, B-2 | Breen dies: 2-A. | The estimated survival figure for this variety is 1,000 to 1,400 or so pieces. Obverse with close date numerals spaced 181 1, same reverse die as preceding. EF and AU examples of the variety are available to those with patience, while Mint State examples of the 1811 Classic Head Half Cent, W-2 should be considered very rare.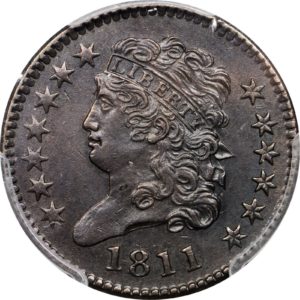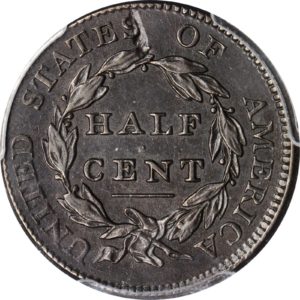 Value of 1811 Restrike Classic Head Half Cent
W-3 | Restrike with Reverse of 1802, mismatched dies. Origin unknown, but in the marketplace by 1859. Sometimes called the Mickley restrike, but the writer (QDB) knows of no facts supporting Mickley's involvement. Obverse die same as W-2, reverse used to coin W-2 of 1802/0 (Reverse of 1802). Struck from dies discarded by the Mint as scrap iron, most of the 10 to 12 or so examples known are in high grade. This is a novodels (post-dated production of a combination of which no originals were made) rather than a restrike. No originals from this die pair were ever struck, therefore there can be no restrikes. This 1811 Classic Head Half Cent, W-3 _restrike is widely and avidly sought by advanced half cent enthusiasts all the same.
The text on the obverse of the coin reads "Liberty, 1811" and the reverse text on the Classic Head Half Cent reads "United States of America, Half Cent." The obverse of the coin shows a womans bust facing the left with 13 stars surrounding her head and the date below. The reverse shows a full wreath surrounding the text in the center. These coins come in many varieties, so we recommend contacting one of our rare coin experts. If you are looking to sell coins, we can always help by giving you a rare coin appraisal. Coin appraisals are free of charge, so just send us a picture and one of our old coin experts will be in touch with you. We have the best rare coin price guide, and you can always trust us with your business!