Value of 1826 Classic Head Half Cent
Mintage/Proof: 234000 / 0
Heavy Circ
Click to Enlarge
Value
$40
I Own 1826 Classic Head Half Cent (1809-1836) in this Condition
Light Circ
Click to Enlarge
Value
$80
I Own 1826 Classic Head Half Cent (1809-1836) in this Condition
History, Information, and Value of 1826 Classic Head Half Cent
Value of 1826 C-1 Classic Head Half Cent
W-1 | C-1, B-1 | Breen dies: 1-A. | Some 3,500 to 4,500 examples of this stalwart 1826 Classic Head Half Cent, W-1 variety are estimated to exist making it easy to locate in just about any grade with VF and EF making up the majority of pieces. A handful of Mint State coins is known as well, most of those rated BN (Brown). Obverse with somewhat widely spaced stars 1 and 2 and a cross-thatching of raised die lines just to the right of the date, diagnostic for the variety. Reverse uppermost leaf ends right of final S in STATES. This coin was minted at the Old Philadelphia Mint.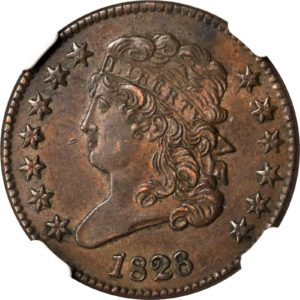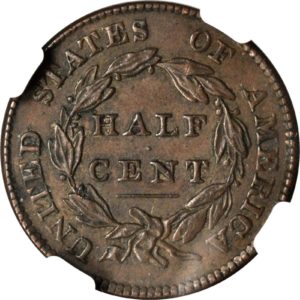 Value of 1826 C-2 Classic Head Half Cent
W-2 | C-2, B-2 | Breen dies: 2-B. | Only 200 to 275 or so examples of this elusive 1826 Classic Head Half Cent, W-2 variety can be safely accounted for today. Obverse with first two stars closer together than on W-1, no cross-thatching at right of date, on some the remnants of a horizontal 6 can be seen in the early states. Reverse uppermost leaf ends beneath the final S in STATES.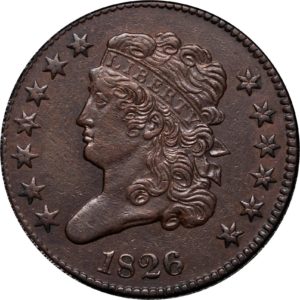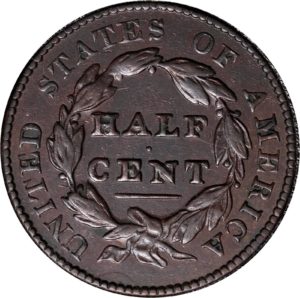 The text on the obverse of the coin reads "Liberty, 1826" and the reverse text on the Classic Head Half Cent reads "United States of America, Half Cent." The obverse of the coin shows a womans bust facing the left with 13 stars surrounding her head and the date below. The reverse shows a full wreath surrounding the text in the center. These coins come in many varieties, so we recommend contacting one of our rare coin experts. If you are looking to sell coins, we can always help by giving you a rare coin appraisal. Coin appraisals are free of charge, so just send us a picture and one of our old coin experts will be in touch with you. We have the best rare coin price guide, and you can always trust us with your business!