Value of 1802/0 Draped Bust Half Cent
Heavy Circ
Click to Enlarge
Value
$600
I Own 1802 Draped Bust Half Cent (1800-1808) in this Condition
Value
$4,000
I Own 1802 Draped Bust Half Cent (1800-1808) in this Condition
Light Circ
Click to Enlarge
Value
$12,000
I Own 1802 Draped Bust Half Cent (1800-1808) in this Condition
Value
$30,000
I Own 1802 Draped Bust Half Cent (1800-1808) in this Condition
History, Information, and Value of 1802/0 Draped Bust Half Cent

Value of 1802/0 C-1 Draped Bust Half Cent
W-1 | Reverse of 1800 | 1 Leaf Each Side of Wreath Apex | C-1, B-1 | Breen dies: 1-A. This variety is very rare and is usually seen in low grades. | It is thought that only 20 to 25 or so examples of this rarity can be accounted for today. Apparently a larger than usual half cent coinage was planned for 1800, but only one die pair is recorded for that date. An unused obverse die of 1800 was put to good use in 1802 when it was overdated and pressed into service, creating a rarity that is always in demand in today's marketplace. The W-1 variety is typically seen in well-worn states with Fine about as nice as today's specialists can hope for. It is the dream of many collectors to flip over an 1802 half cent and see the single leaves reverse of the great Philadelphia Mint rarity!
Value of 1802/0 C-2 Draped Bust Half Cent
W-2 | Reverse of 1802 | 1 Left, 2 Leaves Right at Wreath Apex | C-2, B-2 | Breen dies: 1-B. Considered to be scarce. Usually seen in lower grades. | Obverse of W-1. This variety is often found on planchets of inferior quality that have not weathered the centuries well. These were struck on cut-down large cents for the most part and specimens with traces of the cent undertype command a premium. Some 500 to 800 examples exist of W-2, with a pair of EF coins the finest currently known. After that the grade quality becomes a "catch as catch can" situation ranging from AG upward to an occasional VF.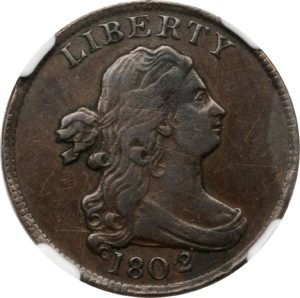 Of the early Copper Half Cents, the Draped Busts are somewhat easy to come by for a low price, or easy to find in a pre-exsisting collection. If you have any questions about which die pair your coin was struck with, or general value questions, please contact our rare coin experts. Our experts will help you identify your coin, as well as determine a value. If you are looking to sell your coin, consider adding it to our rare coin auctions. We are coin buyers!