Value of 1803 Draped Bust Half Cent
Heavy Circ
Click to Enlarge
Value
$50
I Own 1803 Draped Bust Half Cent (1800-1808) in this Condition
Light Circ
Click to Enlarge
Value
$250
I Own 1803 Draped Bust Half Cent (1800-1808) in this Condition
History, Information, and Value of 1803 Draped Bust Half Cent
Value of 1803 C-1 Draped Bust Half Cent
W-1 | C-1, B-1 | Breen dies: 1-A. | The most plentiful of the 1803 half cent varieties, it is believed that well over 3,000 examples of W-1 exist in all grades, a figure that includes a small number of Mint State coins. Obverse die with 03 in date close together. A slip of the engraver's hand left a die line that connects the right end of the fraction bar with the adjacent ribbon on the reverse, and a die artifact is found inside the U of UNITED. There are five berries to left and five berries to right in the wreath on the reverse of this Philadelphia Mint coin.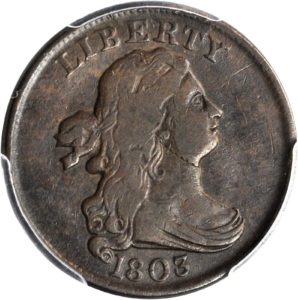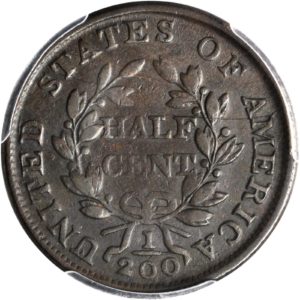 Value of 1803 C-2 Draped Bust Half Cent
W-2 | C-2, B-2 | Breen dies: 1-B. | From the same obverse die as W-1. Here the reverse is new and without the die line at the fraction bar or the die artifact at U as seen on the preceding variety. The denominator, 200, is properly spaced. Only 80 to 120 or so examples of this elusive variety are known and an EF example of W-2 can be considered a rare prize.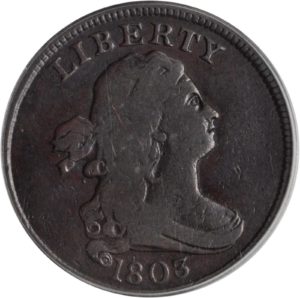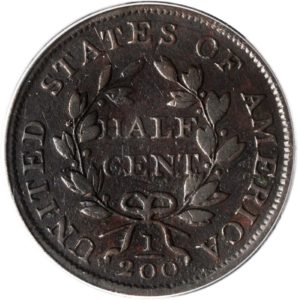 Value of 1803 C-3 Draped Bust Half Cent
W-4 | C-3, B-3 | Breen dies: 2-C. | New obverse die with 03 of date widely spaced, TY of LIBERTY wide, 3 distant from drapery above. Reverse die with berries arranged five left and five right. The denominator, 200, is close with the two 0s virtually touching. Perhaps 1,250 to 1,750 examples of W-4 are extant in all grades with a few Mint State pieces known. Indeed, the majority of known Uncirculated examples of 1803 half cents are of the W-4 variety.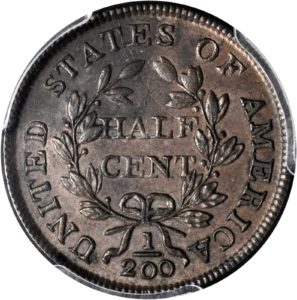 Value of 1803 C-4 Draped Bust Half Cent
W-3 | C-4, B-4 | Breen dies: 1-D. | The second scarcest variety of the date, W-3 is known to the extent of 250 to 300 pieces. It utilized the same obverse as W-1 and W-2, but with a different reverse than any seen this year. The reverse is similar to that of W-2 but with six berries left and five berries right, the only die of the year with this count. It is thought this die was actually made in 1805 and then coupled with a leftover 1803 obverse die. Conditions run from well-worn AG up to Mint State though the scarcity and desirability increase dramatically above VF.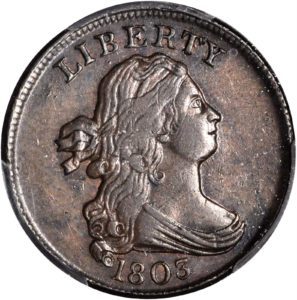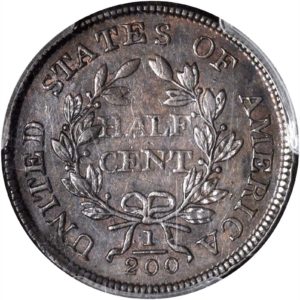 Of the early Copper Half Cents, the Draped Busts are somewhat easy to come by for a low price, or easy to find in a pre-exsisting collection. If you have any questions about which die pair your coin was struck with, or general value questions, please contact our rare coin experts. Our experts will help you identify your coin, as well as determine a value. If you are looking to sell your coin, consider adding it to our rare coin auctions. We are coin buyers!