Value of 1805 Draped Bust Half Cent
Mintage/Proof: 814464 / 0
Heavy Circ
Click to Enlarge
Value
$50
I Own 1805 Draped Bust Half Cent (1800-1808) in this Condition
Light Circ
Click to Enlarge
Value
$250
I Own 1805 Draped Bust Half Cent (1800-1808) in this Condition
History, Information, and Value of 1805 Draped Bust Half Cent
Value of 1805 C-1 Draped Bust Half Cent
W-1 | Medium 5 / Stemless Wreath | C-1, B-1 | Breen dies: 1-A. | The most plentiful variety of the year by a small measure with perhaps 1,600 to 1,900 examples known in all grades. The obverse die has a Medium 5 that is closer to the drapery above than the dentils below; the 5 has a longer vertical stroke than the top flag. The durable Stemless Wreath reverse die used here was also used for W-10 and W-11 of 1804 and was later resurrected in 1806 for W-3. Mint State examples from the Philadelphia Mint exist but are rare.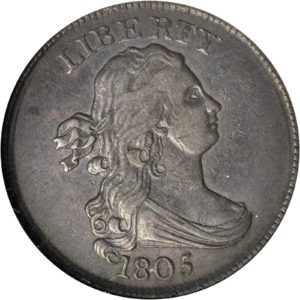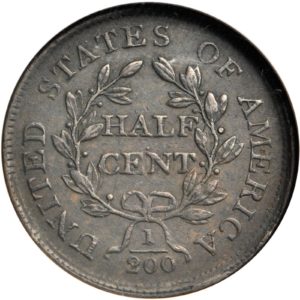 Value of 1805 C-2 Draped Bust Half Cent
W-2 | Small 5 / Stems to Wreath | C-2, B-2 | Breen dies: 2-B. | By far the rarest variety of the date, the estimated population in all grades amounts to just 35 to 50 or so pieces. The finest grade known for W-2 is EF but only a few exist at that level; the variety is equally elusive in VF. Obverse with a Small 5 designation, the 5 about equidistant from the bust above and the dentils below. The vertical stroke of the 5 is shorter than the top flag, the complete opposite of W-1. The reverse die, with stems to wreath, was a workhorse and was used for 1803 W-3 as well as the final three varieties of 1805.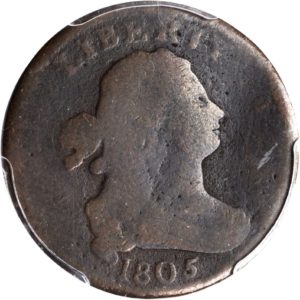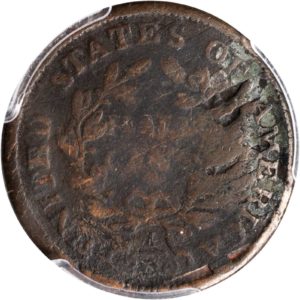 Value of 1805 C-3 Draped Bust Half Cent
W-3 | Small 5 / Stems to Wreath | C-3, B-3 | Breen dies: 2-C. | A very scarce variety, W-3 has an estimated population of 140 to 180 or so pieces with AG to Fine about the top of the quality list in general _ anything finer is a rare coin indeed. From the same obverse and reverse dies as the preceding variety.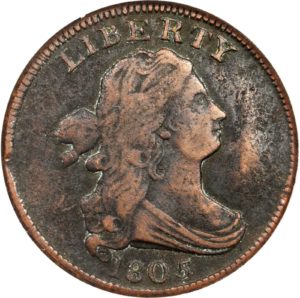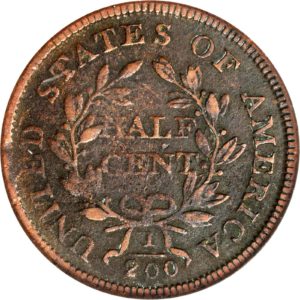 Value of 1805 C-4 Draped Bust Half Cent
W-4 | Large 5 / Stems to Wreath | C-4, B-4 | Breen dies: 3-C. | On the obverse the 5 is large and touches the drapery above with the rightmost point of the flag. The reverse die is that of the preceding variety though of a slightly later state. Its plentiful population of some 1,300 to 1,600 pieces makes for easy acquisition for interested type collectors. Mint State examples of the variety are known though they are few and far between and should be considered rare.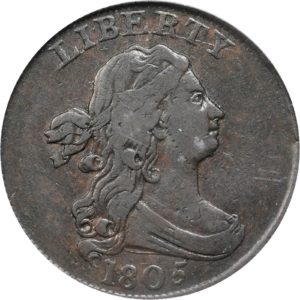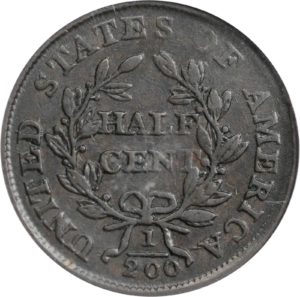 Of the early Copper Half Cents, the Draped Busts are somewhat easy to come by for a low price, or easy to find in a pre-exsisting collection. If you have any questions about which die pair your coin was struck with, or general value questions, please contact our rare coin experts. Our experts will help you identify your coin, as well as determine a value. If you are looking to sell your coin, consider adding it to our rare coin auctions. We are coin buyers!