Value of 1808/7 Draped Bust Half Cent
Mintage/Proof: See Below / 0
Heavy Circ
Click to Enlarge
Value
$75
I Own 1808 Draped Bust Half Cent (1800-1808) in this Condition
Light Circ
Click to Enlarge
Value
$2,400
I Own 1808 Draped Bust Half Cent (1800-1808) in this Condition
Value
$50,000
I Own 1808 Draped Bust Half Cent (1800-1808) in this Condition
History, Information, and Value of 1808/7 Draped Bust Half Cent

Value of 1808/7 C-1 Draped Bust Half Cent
W-1 | C-1, B-1 | Breen dies: 1-A. | One of the rarest varieties of the entire design type, the W-1 overdate has an estimated population of 12 to 15 pieces, nearly all of which are in low grades with a piece graded VF the best available. In 1992 a Good-4 example of W-1 brought $18,150 at auction, a resounding figure for a coin in just Good-4! This variety was discovered by Roger S. Cohen, Jr. in 1952. On the reverse the fraction has the 20 closer together than the 00 figures. This classic coin was minted at the Old Philadelphia Mint.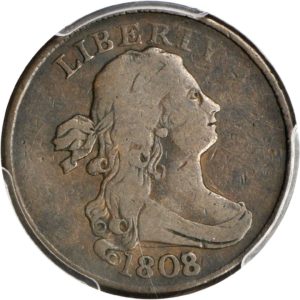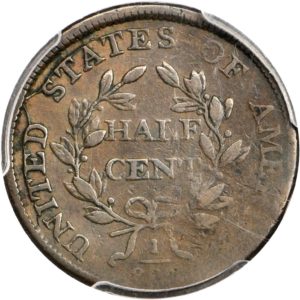 Value of 1808/7 C-2 Draped Bust Half Cent
W-2 | C-2, B-2 | Breen dies: 1-B. | W-2 is the "common" overdate of the year with an estimated population of 600 to 900 pieces, a modest figure in any context. Same obverse die as W-1, reverse used here and at 1808 W-1. Typically found in grades of AG-3 to Fine-12 or slightly better with full VF coins highly elusive and any grade above that downright rare. A single Mint State example is known.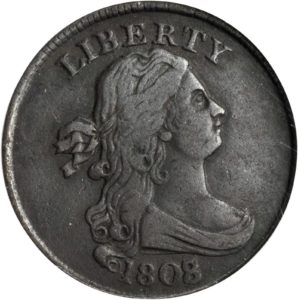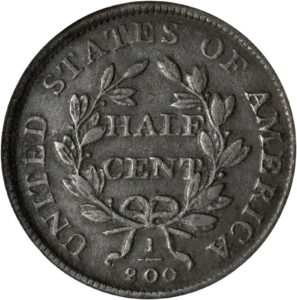 Of the early Copper Half Cents, the Draped Busts are somewhat easy to come by for a low price, or easy to find in a pre-exsisting collection. If you have any questions about which die pair your coin was struck with, or general value questions, please contact our rare coin experts. Our experts will help you identify your coin, as well as determine a value. If you are looking to sell your coin, consider adding it to our rare coin auctions. We are coin buyers!