Value of 1832 Classic Head Half Cent
Heavy Circ
Click to Enlarge
Value
$40
I Own 1832 Classic Head Half Cent (1809-1836) in this Condition
Light Circ
Click to Enlarge
Value
$80
I Own 1832 Classic Head Half Cent (1809-1836) in this Condition
History, Information, and Value of 1832 Classic Head Half Cent
Value of 1832 C-1 Classic Head Half Cent
W-1 | C-1, B-1 | Breen dies: 1-A. | An estimated 1,250 to 1,750 examples of 1832 Classic Head Half Cent, W-1 are extant, many of those in EF and AU. Mint State coins are available with patience though precious few can be found with any mint color. Obverse with small date close to border used on all three varieties of the date. Reverse with tip of uppermost leaf under right side of final S in STATES. A small number of Proofs of the date, perhaps four to eight pieces all told, are from these dies. This coin was minted at the Old Philadelphia Mint.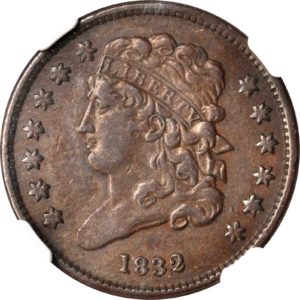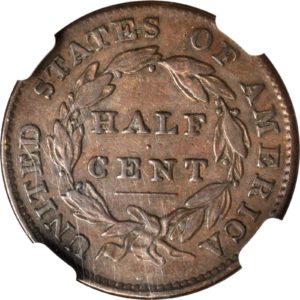 Value of 1832 C-2 Classic Head Half Cent
W-2 | C-2, B-2 | Breen dies: 1-B. | Survival estimates for the 1832 Classic Head Half Cent, W-2 suggest 1,250 to 1,750 pieces are known. Same obverse as preceding, reverse with topmost leaf under E in STATES. Mint State examples of the variety are known but seldom show any mint color.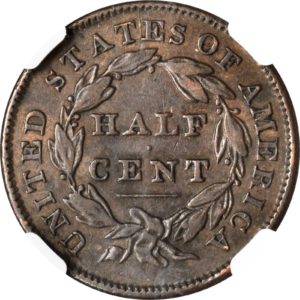 Value of 1832 C-3 Classic Head Half Cent
W-3 | C-3, B-3 | Breen dies: 1-C. | Equal in survival numbers to its compatriot varieties of the date with some 1,250 to 1,750 pieces though to exist, this variety shares the same obverse die as the preceding two varieties. The reverse is very similar to that of W-1 but differs in berry placement. Just about any grade desired of the 1832 Classic Head Half Cent, W-3 can be had with Mint State coins sometimes showing mint orange. Walter Breen stated that some Proofs of this variety were made.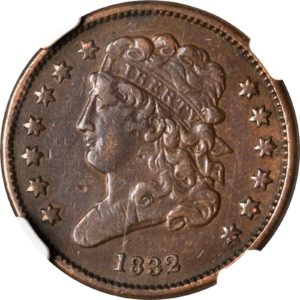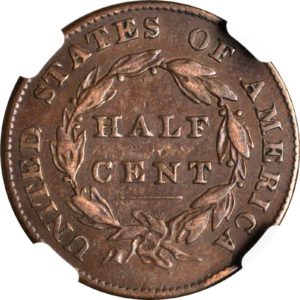 The text on the obverse of the coin reads "Liberty, 1832" and the reverse text on the Classic Head Half Cent reads "United States of America, Half Cent." The obverse of the coin shows a womans bust facing the left with 13 stars surrounding her head and the date below. The reverse shows a full wreath surrounding the text in the center. These coins come in many varieties, so we recommend contacting one of our rare coin experts. If you are looking to sell coins, we can always help by giving you a rare coin appraisal. Coin appraisals are free of charge, so just send us a picture and one of our old coin experts will be in touch with you. We have the best rare coin price guide, and you can always trust us with your business!