Value of 1836 Classic Head Half Cent
Heavy Circ
Click to Enlarge
Value
$40
I Own 1836 Classic Head Half Cent (1809-1836) in this Condition
Light Circ
Click to Enlarge
Value
$80
I Own 1836 Classic Head Half Cent (1809-1836) in this Condition
History, Information, and Value of 1836 Classic Head Half Cent
Value of 1836 C-EO-12 Classic Head Half Cent
W-1 | Early Die State, Original, Proof | C-EO-12, B-1. | The original mintage for this rarity is believed to be just 40 to 50 or so pieces, many sold in sets, with perhaps nearly that number of Proofs known today. Obverse with small date fairly high from the border, 3 low. Reverse die with large berries and the tip of the uppermost leaf at the lowest left serif of the final S in STATES. Within 10 or so years America's fledgling numismatic community recognized the rarity of the 1836 Classic Head Half Cent, C-EO-12 which accounted for the restrikes listed below. This coin was minted at the Old Philadelphia Mint.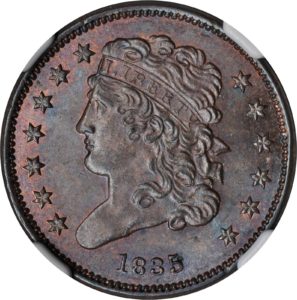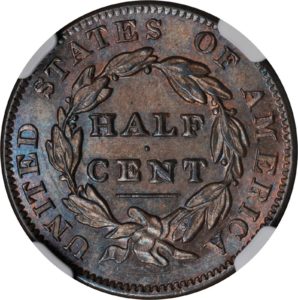 Value of 1836 C-PR-1 Classic Head Half Cent
W-1a | Later Die State, Restrike from the Same Dies, Proof | C-PR-1, B-1a. | At some point in the 1840s or 1850s_the timing is uncertain_restrikes were made to satisfy the need for the date within a growing numismatic community. The obverse die is that of W-1 but here there is a bulge at the center; the reverse die is also the same as W-1 but it has been repolished. Only about 10 to 15 examples of this 1836 Classic Head Half Cent, C-PR-1 restrike can be accounted for today.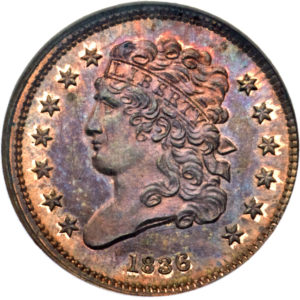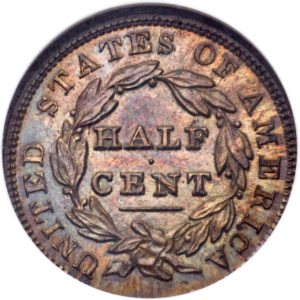 Value of 1836 C-SR-16 Classic Head Half Cent
W-2 | Second Restrike, Proof | C-SR-16, B-2 | Breen dies: 1-C. | Perhaps just six to 10 Proofs of the 1836 Classic Head Half Cent, C-SR-16 are known today. The obverse die is that of the preceding but now the swelling has joined the right field. The reverse die is of Gobrecht's style with small berries that was in use throughout the 1840s for Proof half cent coinage. This die also presents raised diagonal die lines in the field above RICA.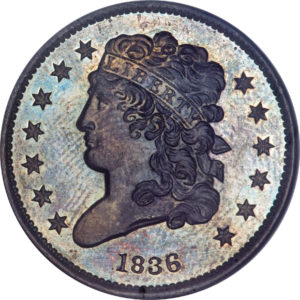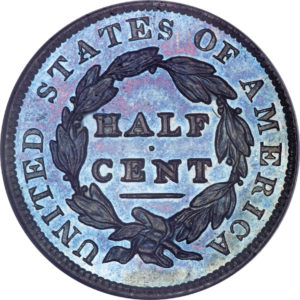 The text on the obverse of the coin reads "Liberty, 1836" and the reverse text on the Classic Head Half Cent reads "United States of America, Half Cent." The obverse of the coin shows a womans bust facing the left with 13 stars surrounding her head and the date below. The reverse shows a full wreath surrounding the text in the center. These coins come in many varieties, so we recommend contacting one of our rare coin experts. If you are looking to sell coins, we can always help by giving you a rare coin appraisal. Coin appraisals are free of charge, so just send us a picture and one of our old coin experts will be in touch with you. We have the best rare coin price guide, and you can always trust us with your business!