Value of 1835 Classic Head Half Cent
Mintage/Proof: 398000 / 20
Heavy Circ
Click to Enlarge
Value
$40
I Own 1835 Classic Head Half Cent (1809-1836) in this Condition
Light Circ
Click to Enlarge
Value
$80
I Own 1835 Classic Head Half Cent (1809-1836) in this Condition
History, Information, and Value of 1835 Classic Head Half Cent
Value of 1835 C-1 Classic Head Half Cent
W-1 | C-1, B-1 | Breen dies: 1-A. | The Mint struck an estimated 398,000 1835 half cents at a time when hundreds of thousands of the denomination from earlier years were still in storage. Obverse with small date, the 3 slightly smaller than the other numerals. The reverse die appeared at 1835 Classic Head Half Cent, W-1 for 1833 and 1834 and has S and T of STATES widely spaced. Some 4,500 to 6,000 examples of the date are estimated to exist and Mint State pieces are available for just about all who desire an example. This coin was minted at the Old Philadelphia Mint.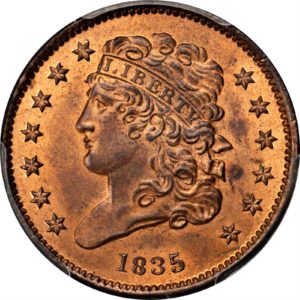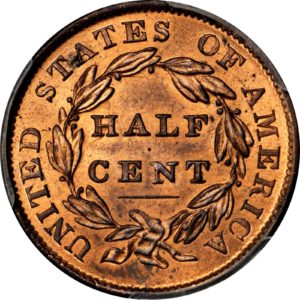 Value of 1835 C-2 Classic Head Half Cent
W-2 | C-2, B-2 | Breen dies: 1-B. | Some 4,000 to 5,000 examples of the 1835 Classic Head Half Cent, W-2 are believed to be extant, a figure which includes 15 to 20 or so rare Proofs. From the same obverse die as W-1 but from a different reverse die with S and T of STATES closely spaced. As with the Guttag Brothers hoard of 1833 half cents turned up in the 1930s, this date was also the subject of a hoard discovery. In the 1930s, dealer Elmer Sears located a hoard of more than 1,000 Uncirculated 1835_dated half cents, most of them mint orange but with trivial spotting. This hoard too saw its finish in the 1950s when the final pieces were distributed.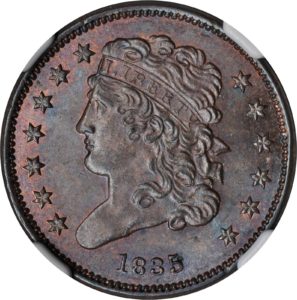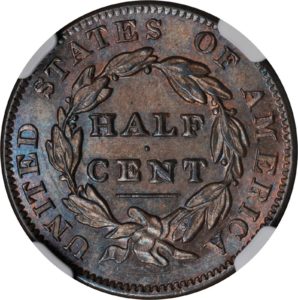 The text on the obverse of the coin reads "Liberty, 1835" and the reverse text on the Classic Head Half Cent reads "United States of America, Half Cent." The obverse of the coin shows a womans bust facing the left with 13 stars surrounding her head and the date below. The reverse shows a full wreath surrounding the text in the center. These coins come in many varieties, so we recommend contacting one of our rare coin experts. If you are looking to sell coins, we can always help by giving you a rare coin appraisal. Coin appraisals are free of charge, so just send us a picture and one of our old coin experts will be in touch with you. We have the best rare coin price guide, and you can always trust us with your business!