Value of 1796 Liberty Cap Half Cent
Heavy Circ
Click to Enlarge
Value
$9,000
I Own 1796 Liberty Cap Half Cent (1793-1797) in this Condition
Value
$30,000
I Own 1796 Liberty Cap Half Cent (1793-1797) in this Condition
Light Circ
Click to Enlarge
Value
$50,000
I Own 1796 Liberty Cap Half Cent (1793-1797) in this Condition
Value
$75,000
I Own 1796 Liberty Cap Half Cent (1793-1797) in this Condition
History, Information, and Value of 1796 Liberty Cap Half Cent
Value of 1796 C-1 Liberty Cap Half Cent
W-1 | No Pole to Cap | C-1, B-1a | Breen dies: 1-A. This is one of the most famous American rarities. | The 1796 Liberty Cap Half Cent, W-1 has been a storied rarity ever since the cradle days of numismatics in America. As early as 1859 Montroville W. Dickeson's American Numismatical Manual could only account for 10 of the date in collectors' hands. It is believed today that just 20 or so examples are known in all grades although estimates vary; some specialists have settled on the precise figure of 17 pieces. Amazingly, perhaps four examples are known in Mint State, and in the past a case was been made to call some of those examples Proof. The obverse die has no pole at Liberty's shoulder, though it was not ground out of the die as in certain 1795 issues but rather simply forgotten by the die sinker! All known examples of W-1 have a bisecting obverse crack that probably accounts for the rarity of the variety; the cracked die was no doubt discarded after very few pieces were struck. In February 2016 our firm, in conjunction with Sotheby's, sold the remarkable D. Brent Pogue 1796 No Pole half cent at public auction. The Pogue coin, ex Earle-Atwater-Eliasberg collections, is the finest example known and was graded MS-67 RB by PCGSãit sold for the princely sum of $763,750. Several of the high-grade 1796 half cents known today are from English sources, taken to the British Isles by early visitors to the Mint in Philadelphia during its formative years and two centuries later repatriated to America. The obverse die was used at the Philadelphia Mint only for W-1 and the reverse die displays 18 leaves and four berries on the left stem with 16 leaves and three berries on the right stem.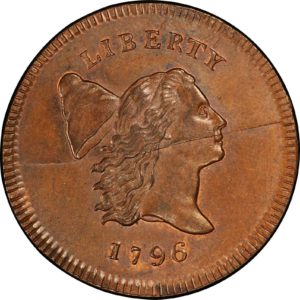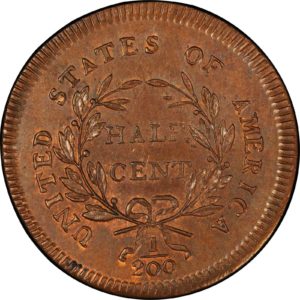 Value of 1796 C-2 Liberty Cap Half Cent
W-2 | With Pole to Cap | C-2, B-2a and b | Breen dies: 2-A. | The 1796 Liberty Cap Half Cent, W-2 variety offered here with a Liberty pole to cap is perhaps not equal in rarity to its No Pole cousin of the date, but it is certainly its equal in desirability and an absolute rarity in its own right. It is thought some 100 to 120 examples of the variety are extant in all grades, beginning at AG-3 and then up through the grading scale with perhaps a dozen Mint State pieces known as well. Some of these Uncirculated coins also had their beginnings in Philadelphia before going to England and returning a century or two later to America. The obverse die is, of course, different from that of W-1, while the reverse is that of W-1. In 2016 Stack's Bowers Galleries, in conjunction with Sotheby's of New York, sold the D. Brent Pogue 1796 With Pole half cent for $470,000. That specimen was graded MS-66 RB by PCGS. Early on the date was recognized as a great rarityãthe king among half centsãand sometime prior to 1866 a Dr. Francis S. Edwards made copies of the variety. Though neatly and stylistically done, the pieces fooled few if any collectors of the era. Today, even the 1796-dated Edwards copies are eagerly sought by half cent specialists.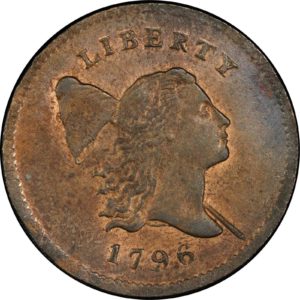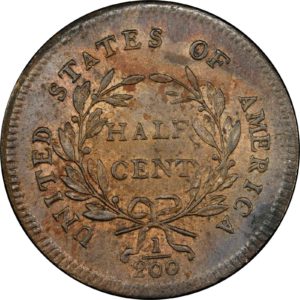 The Liberty Cap Half Cent series is popular and rare. This copper coin can fetch high values in the right auction setting. If you are interested in having your rare Liberty Cap Half Cent auctioned in our next sale, please contact our experts to have your coin appraised. There are many varieties of each year, so it is important to show your coin to an expert for proper valuation. We are rare coin experts!