Value of Indian Quarter Eagle (1908-1929)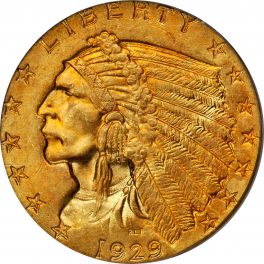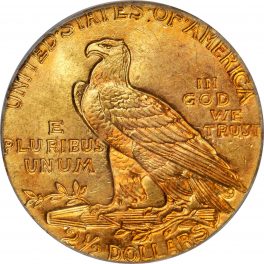 The Indian Head $2.50 gold quarter eagle series, along with the half eagles of the same design type, represent a revolutionary and controversial segment of American numismatics. In 1905 president Theodore Roosevelt commissioned artists to redesign the entire American coinage from the cent to the double eagle. Work began on the $20 and then the $10. The famous coin designer Saint-Gaudens, who did the original work, was ill with cancer, and on August 3, 1907, he passed away. The work on the eagle and double eagle was completed by his assistant, Henry Hering. Eagles were first struck in the autumn and double eagles in December. This left undone Roosevelt's hope for the other denominations (like the $2.50 and $5 gold coins). Bela Lyon Pratt was contacted and in due course designed the motifs of the Indian Head quarter eagle and half eagle with Indian Head and eagle motifs. The design was unique in that the coin is recessed instead of raised.
The reverse of the $2.50 gold coin showcases an intricately-feathered American bald eagle standing upon a bundle of arrows facing left. The legend UNITED STATES OF AMERICA is above and the denomination is at the lower border. The lower left and upper right fields are inscribed E PLURIBUS UNUM and IN GOD WE TRUST, respectively. The eagle portrayed here was heavily influenced by the eagle used on the reverse of the Indian $10 coin designed by Saint-Gaudens and reproduced at the request of President Roosevelt himself. A similar representation of the national bird was used by Saint-Gaudens on the reverse of the 1905 inauguration medal he did for the president.
When evaluating the value of these coins you want to pay close attention to the cheek and bonnet of the Native American.  This is where wear/circulation will first start to show on the coin.  Any $2.50 gold coin from 1911 with a D (for Denver) mint mark is very rare no matter the condition.  Uncirculated versions of the 1911-D will sell for many thousands of dollars.  All other $2.50 Indian gold coins are definitely collectible.  However, their exact value will be heavily influenced by the coin's condition.  The nicer the coin, the more it will be worth.  We are interested in buying any and all $2.50 gold coins, no matter the year or condition.  Please send us an email at Info@Coinappraiser.com or view our guide below for more information.
---