Value of St. Gaudens $20 Gold (1907-1933)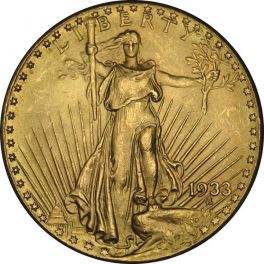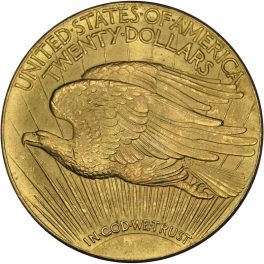 The design for the $20 Saint-Gaudens double eagle gold coin (struck from 1907 through 1933) originated with the MCMVII High Relief design created through the cooperation of President Theodore Roosevelt and noted sculptor Augustus Saint-Gaudens in a program unprecedented in the history of American coinage. One day in 1904 Roosevelt visited the Smithsonian Institution, where, under glass, he viewed specimens of ancient Greek coinage and was inspired to improve the aesthetic appeal of United States coins. In 1905, the New Hampshire sculptor St. Gaudens was given a commission of $5,000 by Roosevelt to redesign the entire American coinage from the cent to the double eagle. This was done without the advice or consent of the Treasury Department or the Mint, from where new designs traditionally originated. Saint-Gaudens was given free license to come up with ideas.
The production of the double eagle represented quite a struggle, but when the 1907 High Relief double eagles were released into circulation in December 1907, they were widely publicized, highly acclaimed, and a mad scramble ensued to acquire them. All of this was very fortunate for the numismatic community, for probably somewhere around 5,000 to 6,000 or so survive today, most in varying degrees of Mint State, although relatively few in Gem preservation. After the limited mintage of 1907 High Relief coins was completed, Barber took charge, flattened the design, removed the Roman numerals, and made some other artistic changes. The revised design was used to strike additional double eagles dated 1907 as well as coins dated 1908 made at both the Philadelphia and Denver mints. In the latter year the motto IN GOD WE TRUST was added to the reverse of the double eagle and additional pieces were struck. The With Motto design would be used on this denomination through its discontinuation in 1933.
The rarest $20 St. Gaudens gold coins are from 1933. The next rarest coins are from 1927-D. 1920-S, 1921, and 1930-S $20 gold coins are also very scarce. The next tier of rarity contains the 1907 high relief coins, 1927-S, 1929, 1931, and 1932. The D and S mint marks represent Denver and San Francisco. Non-marked coins are from Philadelphia. We are of course very interested in seeing your St. Gaudens coins and would like a chance to make an offer.  Send some photos to Info@Coinappraiser.com.  Our guide below has more information about specific coins.
---