Value of Liberty Head Double Eagle (1849-1907)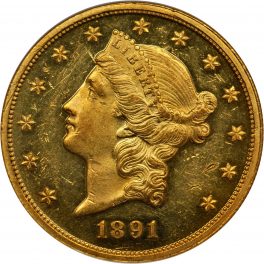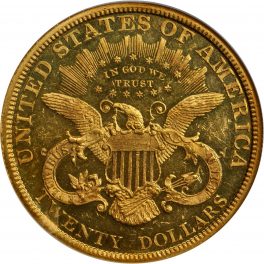 Welcome to the fascinating and challenging field of collecting Liberty Head $20 double eagle gold coins.  This was once an under appreciated coin series; however, since the distribution of the treasure coins from the S.S. Brother Jonathan and the S.S. Central America in the late 1990s, interest in Liberty Head double eagles in general has multiplied many times.
Designing and making models for the coining of the two major motifs of double eagles involved two men; Engraver James B. Longacre and sculptor Augustus Saint-Gaudens, with others including Mint engravers William Barber and his son, Charles, and Saint-Gaudens' assistant, Henry Hering, playing subsidiary roles in finessing dies or making small changes.  The $20 gold coin that these men created was a true workhorse in commerce during its use starting in 1850 until the early 1900s.  It was the discovery of vast amounts of gold in California that prompted the U.S. government to introduce this new denomination for circulation in 1850.  One can just imagine the business dealings that were sealed by handing over a stack of liberty head $20 gold coins back in a time when paper money was largely not trusted and universal credit was still many decades away.
Your average circulated $20 liberty head gold piece is likely not going to be worth a tremendous amount more than the value of its gold content (which is just a little less than one ounce).  These coins need to be from a rare year and mint mark, or be in exceptional condition to be highly valuable.  You can use our guide to find out how much your gold coin is worth.  Don't forget to consult directly with us at Info@Coinappraiser.com or you can visit our coin expert page to find someone to make an offer on your particular $20 gold coin.
---